Dislocacion Project


Estadio Nacional 11.09.09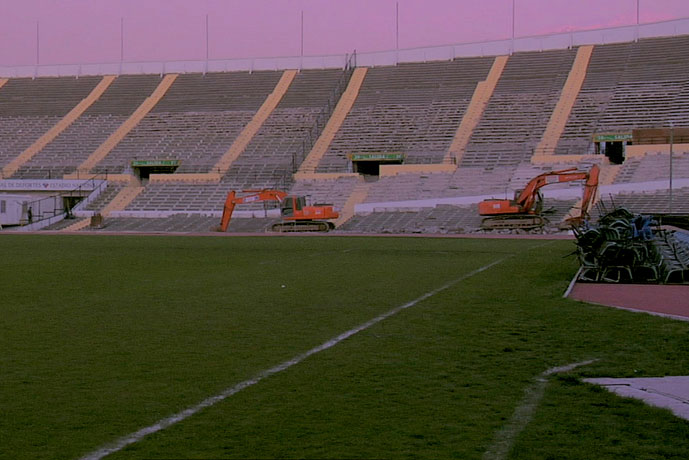 CHILE 2010
03 sept. -- 15 nov.
Museo de la Solidaridad Salvador Allende
República 475
Santiago, Chile
http://www.museodelasolidaridad.cl/
Curado por / Curated by: Ingrid Wildi Merino.

2011

SWITZERLAND


18 mar. -- 19 jun.

Kunstmuseum Bern
Hodlerstrasse 8-12
3000 Bern 7, Switzerland
http://www.kunstmuseumbern.ch/
Curado por / Curated by: Ingrid Wildi Merino & Kathleen Bühler.
The work shows the National Stadium of Santiago, Chile while is dismantle and demolished due to the upcoming remodeling and which inauguration is scheduled for September 2010.

Slowly the camera looks around this emblematic space, built on the late thirties, that has been witness of a number of milestones of Chilean history, Football World Cup, politic manifestation, presidential speeches, concert and mass concentrations where personalities such as Fidel Castro or Pope John Paul II spoke publically.

The camera on a slow travelling becomes part of the history of the place showing its architecture, when filming on September 11, 2009, 36 years after the military coup that made the National Stadium the biggest concentration camp of the country. This march, slow and lilting with the rhythm of a walk, is enhanced by the re-interpretation of Victor Jara's "Luchin", performed by musician Carlos Cabezas.

Music and image get together and show how the pain and hope are melt in one building, which remodeling and modernizing will not be able to extinguish the conscience of history.
Camilo Yáñez
1974
Camilo Yañez's first pieces of work include wall paintings with optical forms and line patterns. They are in general basic operations moving through figures and abstraction, using quotations of the graphic techniques of the left propaganda and their further links with contemporary forms of construction of media images. His pieces of work are moving through a wide territory between painting and drawing, using mainly graphics and currently video with the clear intention of overwhelm the space in which the spectator perceive the work. Camilo Yañez's work becomes ironic understanding the formalism as a naturally bastard territory and polluted given its multiple, useful, uncontrollable and fast consuming nature.
Camilo Yañez's pieces of work, frequently reinterpret quotidian and simple contexts being political and social ones, going from pictorial magic to documentary proposals. His pieces of work are usually a sort of mirage of our attitude as society. Choosing an ironic posture, Yañez tries to provoke a critical-reflexive position around certain facts of our recent history.
www.cy.cl