Dislocacion Project


Sahara Chronicle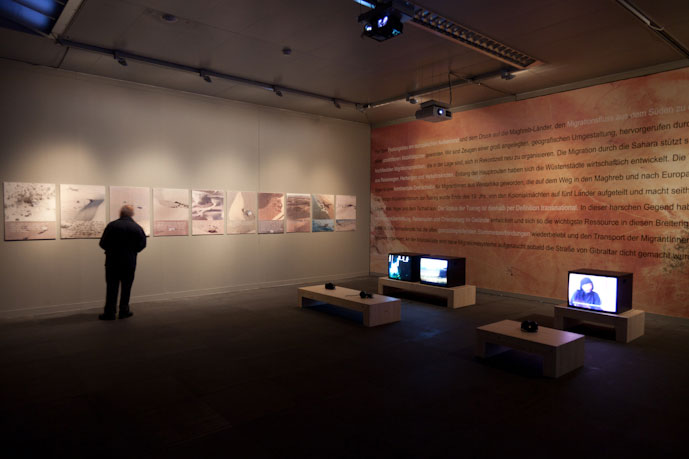 CHILE 2010
07 sept. -- 07 nov.
Museo Nacional de Bellas Artes
Parque Forestal S/N
Santiago, Chile
http://www.mnba.cl/
Curado por / Curated by: Ingrid Wildi Merino.
2011

SWITZERLAND


18 mar. -- 19 jun.

Kunstmuseum Bern
Hodlerstrasse 8-12
3000 Bern 7, Switzerland
http://www.kunstmuseumbern.ch/
Curado por / Curated by: Ingrid Wildi Merino & Kathleen Bühler.
Sahara Chronicle includes a number of records of the more or less successful efforts at keeping the fluctuating migration currents through Morocco, Mauritania and Libya in check, by means ranging from off-road patrols in border terrain to aerial surveys by propeller planes and high-tech surveillance drones.

One of the records is dedicated to some of the most high-tech surveillance technologies currently being deployed on military missions, from the war in Iraq to the Saharan desert front. Libya has received the newest models of unmanned airplanes from Germany, in return for their active demonstration of hindering migration flux to Europe. These drones glide over the desert borders, transmitting televisual data back to a remote receiver in real time. Lack of source material meant that I had to artificially construct it from high-resolution satellite images of the Libyan desert. This artificial videography addresses the important fact that migratory space cannot simply be documented by conventional video-making on the ground. We need to enter the more ethereal strata of signal territories created by the streaming of images and the diffusion of sounds and information – territories with a relentless and excessive meaning production.

The abstraction of these images is offset in yet another video, with sequences of the hard reality experienced by those who have no visa to the borderless world of signs. The over-crowded deportation center in a former colonial prison in Laayoune, Western Sahara, offers a sight that propels you back two hundred years into a somber past. Close your eyes and you can hear the chains jangle. The main light source is a barred skylight, a hole in the roof through which a harsh stream of sunlight pierces the sweaty gloom, making every mosquito and every grain of dust dance in front of your eyes. Slowly getting used to the scene, you see starvation, weakness, disease and sun-scorched eyes; none of this matters when the goal is in sight, but it is excruciating to bear when hope has slid away. The only traces of the migrants' trajectories are the fragile architectures they had built in the remote desert dunes during the days and weeks of holding out while water stocks were running low. The aerial photographs show that, around some of these shelters, an area is marked by stones like the outline of a garden or a place for prayer, as if the deadly expanse was a place too vast to comprehend.
Ursula Biemann
1955
Ursula Biemann (Switzerland) is an artist, theorist and curator who has in recent years produced a considerable body of work on migration, mobility, technology and gender. In a series of internationally exhibited video projects, as well as in several books "Been there and back to nowhere" (2000), "Stuff It - The Video Essay in the Digital Age" (2003) and her new monograph "MISSION REPORTS" (2008) she has focused on the gendered dimension of migrant labour from smuggling on the Spanish-Moroccan border to migrant sex workers in the global context. Her experimental video essays connect a theoretical macro level with the micro perspective on political and cultural practices on the ground.
Insisting that location is spatially produced rather than pre-determined by governance, she made space and mobility her prime category of analysis in the curatorial project "Geography and the Politics of Mobility" (2003) at the Generali Foundation in Vienna, "The Maghreb Conncection" on migratory systems in North Africa, Cairo/Geneva (2006) or the art research projects "Black Sea Files" on the Caspian oil politics at Kunstwerke Berlin (2005) and "Sahara Chronicle" on trans-saharan mobility. The most recent video essay "X-Mission" (2008) is an analysis of the Palestinian refugees camps as a zone of exception.
Biemann's practice has long included discussions with academics and other practitioners, she has worked with anthropologists, cultural theorists, NGO members, architects, as well as scholars of sonic culture. Her video essays reach a wide and diverse audience through festival screenings, art exhibitions, activist conferences, networks and educational settings.
Recent exhibitions include: Zona B at Tapies Foundation, Barcelona; International Biennial Istanbul; Centre d'art Contemporain, Geneva, solo exhibitions at the Bildmuseet Umea in Sweden, Nikolaj Contemporary Art in Copenhagen and the Helmhaus Zurich, a retrospective at the film festivals FID Marseille and TEK Rome, as well as participation in major exhibitions at the Arnolfini, Bristol, A Foundation Liverpool; LACE, Los Angeles and the Art Institute, San Francisco; Artist Space, New York, Kunstverein Hamburg;the Gwangju, Shanghai and Sevilla Biennials, steirischer Herbst, Graz, Flaherty Film Seminars, NY and many others.
Ursula Biemann is a researcher at the Institute for Theory of Art and Design at HGK Zurich and teaches seminars and workshops internationally. She is guest editor for a special issue of the cultural webmagazine ArteEast: Regimes of Extrateritoriality in the Middle East, December 2009.
She is appointed Doctor honoris causa in Humanities by the Swedish University Umea, 2008 and receiver of the 2009 Meret Oppenheim Prize, the national art award of Switzerland.